Role
Interaction Design, Prototyping, Journey Map, Service Design, Information Architecture, Research Synthesis
Timeline
Sep 2019 - Dec 2019
A public transit app providing location-based guidance and help to the autistic community.



A collaborative graduate course project. Define and respond to a design challenge on the topic of mental health informed by qualitative research.

I led the qualitative research, interaction design and motion design.


---
---
Public transportation for autistic adults is an unaddressed pain point for autistic adults
Target Audience


There are 3.5 million Americans suffering from Autism Spectrum Disorder. They are all impaired by heightened social anxieties at different levels.
Why public transit?


Autistic people have the same travel demands, but they have limited transportation resources. The only available options for them are paratransit, transportation training and relatives driving.
How might we
help autistic adults achieve independence when riding public transportation?
Contextual Guidebook
The guidebooks brief the autistic riders about the actions and etiquettes on the bus, reassuring them by telling them what to expect.
Real-time Transit Guide
To help autistic riders better orient themselves at different stages of the journey, they can read about other riders' experiences on the app. For example, in Katherine's guidebook, it suggests other autistic riders to look out for a McDonald's to get off the bus.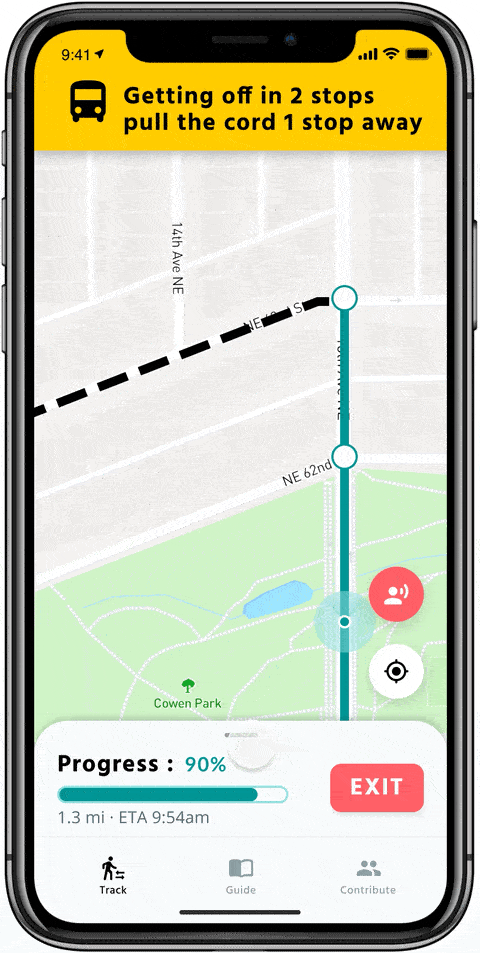 Emergency Help
When those contextual guides are insufficient, autistic riders might still get panicked. In this case, they can request help from other passengers by pressing the emergency button on the tracking page. Other app users will get buzzed about this help request. They can follow the app to locate the autistic riders that need real-time help.

Be a Contributor
When autistic riders successfully reach the destination, they will be prompted to offer their bus-riding experience, for example, fix outdated contextual guide books related to locations where they requested additional help.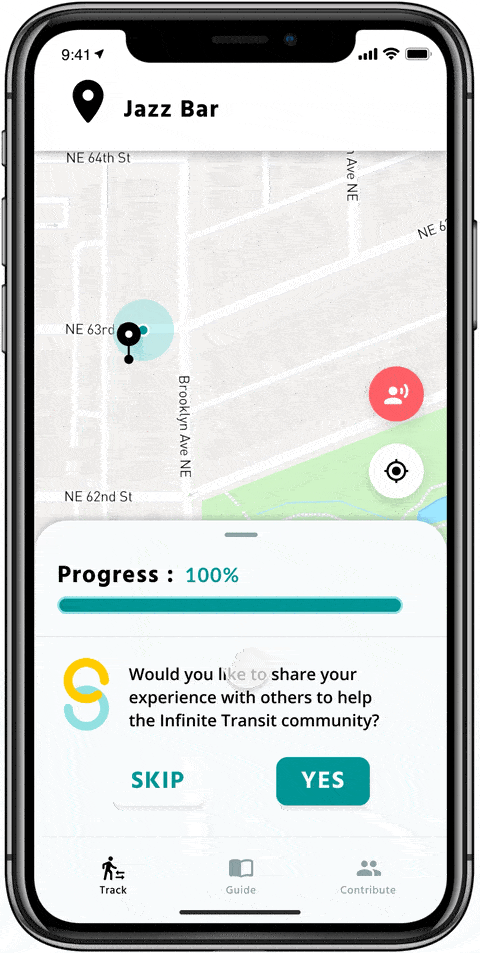 ---
---
Empathize with the population through qualitative research
We used different research methods to answer 3 guiding research questions, and generated 3 key insights.
research question 01


What are the pain points when riding public transit?

research question 02


How do autistic community cope with public transit?
research question 03


What transit tools do autistic riders prefer?
---
Make ideas tangible through ideation and prototyping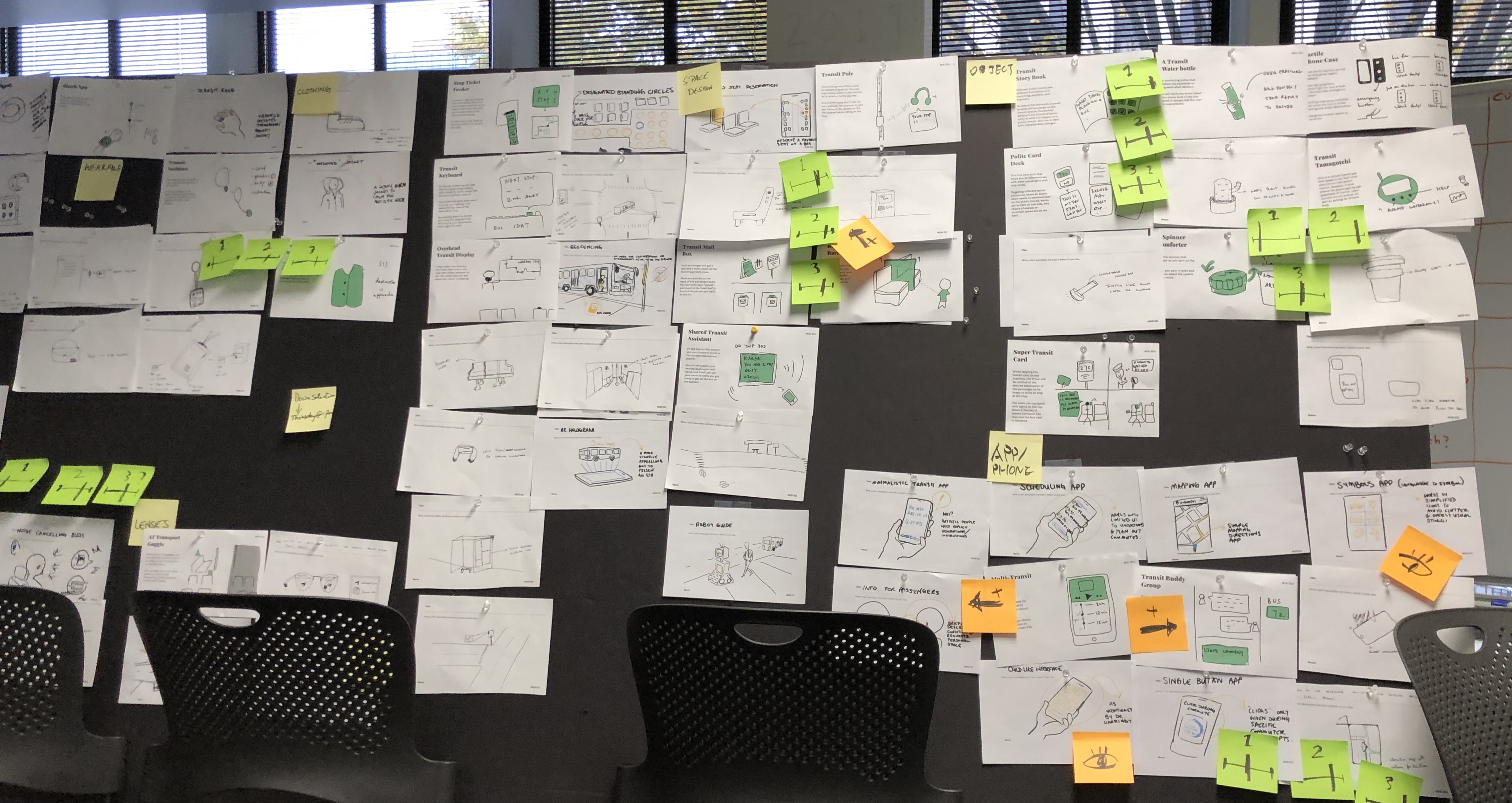 Based on research insights, we ideated
90 ideas
to converge into
3 design directions
.
01 Define Success
Desired Outcome
We wanted user to achieve growth and independence over time using the support of the transit service.
02 Narrowing the Scope
Idea Down Selection

We synthesized 3 design principles. Using the method of Barometer voting and 6 thinking hat, we narrowed down to 3 design directions.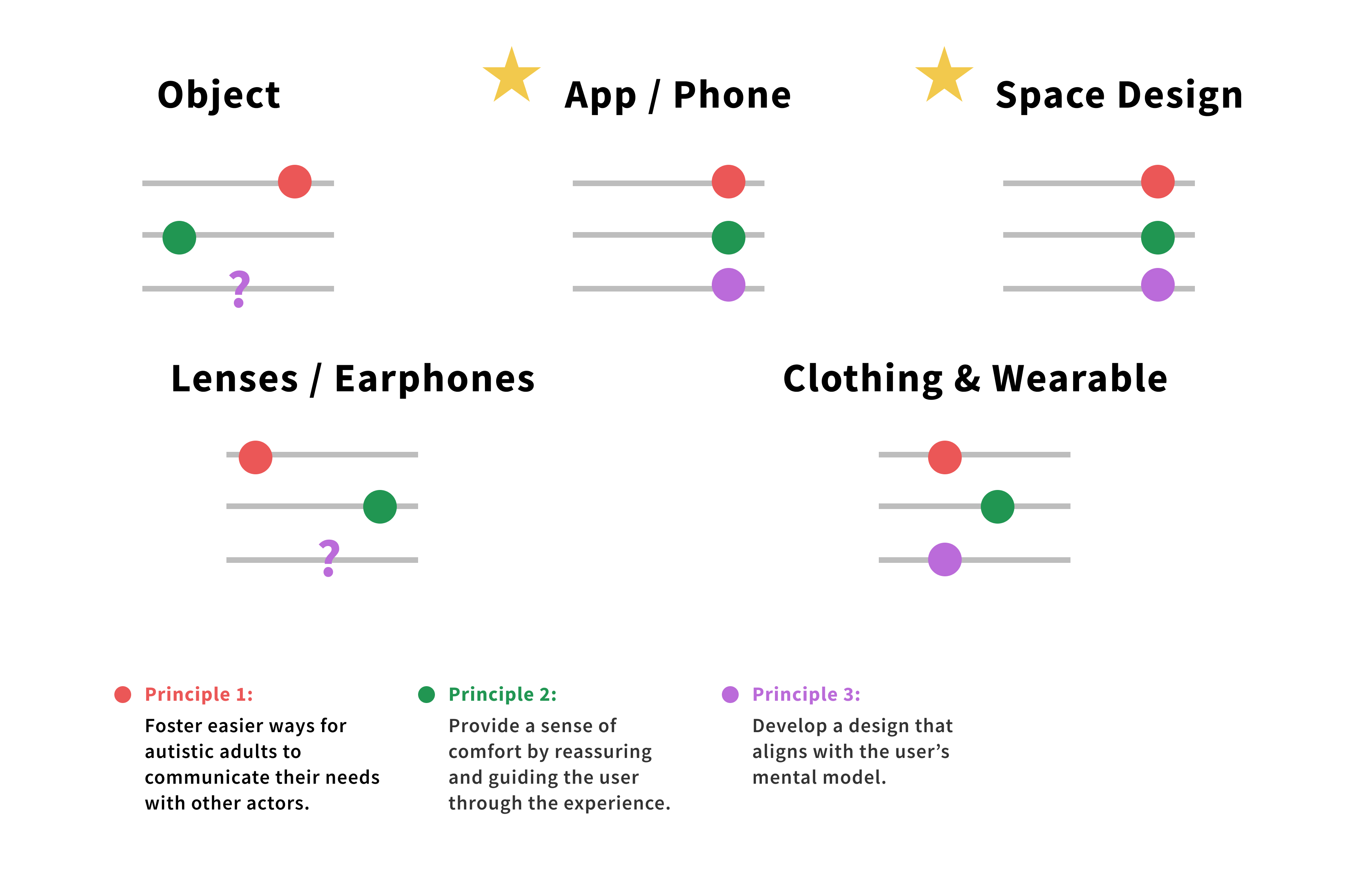 design principle, the board, barometer voting, and 6 thinking hat
We narrowed down to 3 design directions


location-based notification
The artifact will automatically remember the daily routes of users. When users are at home getting ready for transportation, they will receive a notification about the traffic estimate including punctuality and the crowdedness of the transportation.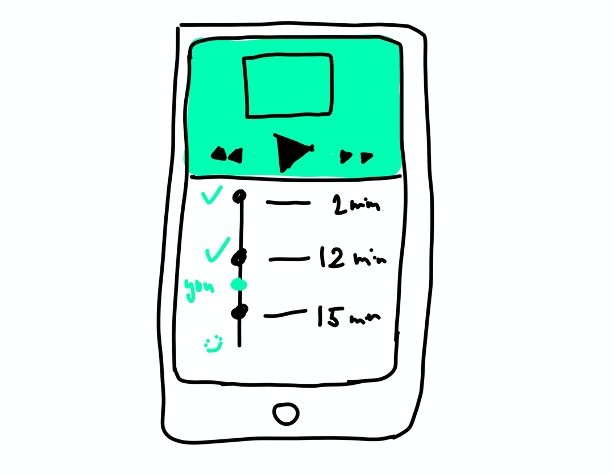 Split-Screen App
The artifact will allow users to interact with 2 applications at once by providing a split-screen function in the app. Users will be able to track their routes while also occupying themselves with music, video, sketching, etc.
Custosmizable Communication Page
With users' comfort and discretion, the platform allows them to create a personalized message to display to other actors when users have a request or need they must express.
The Pivot
We took three mockup concepts and conducted user testing. The purpose of prototyping is to understand what feature is the most helpful for autistic users, how explicit is the information.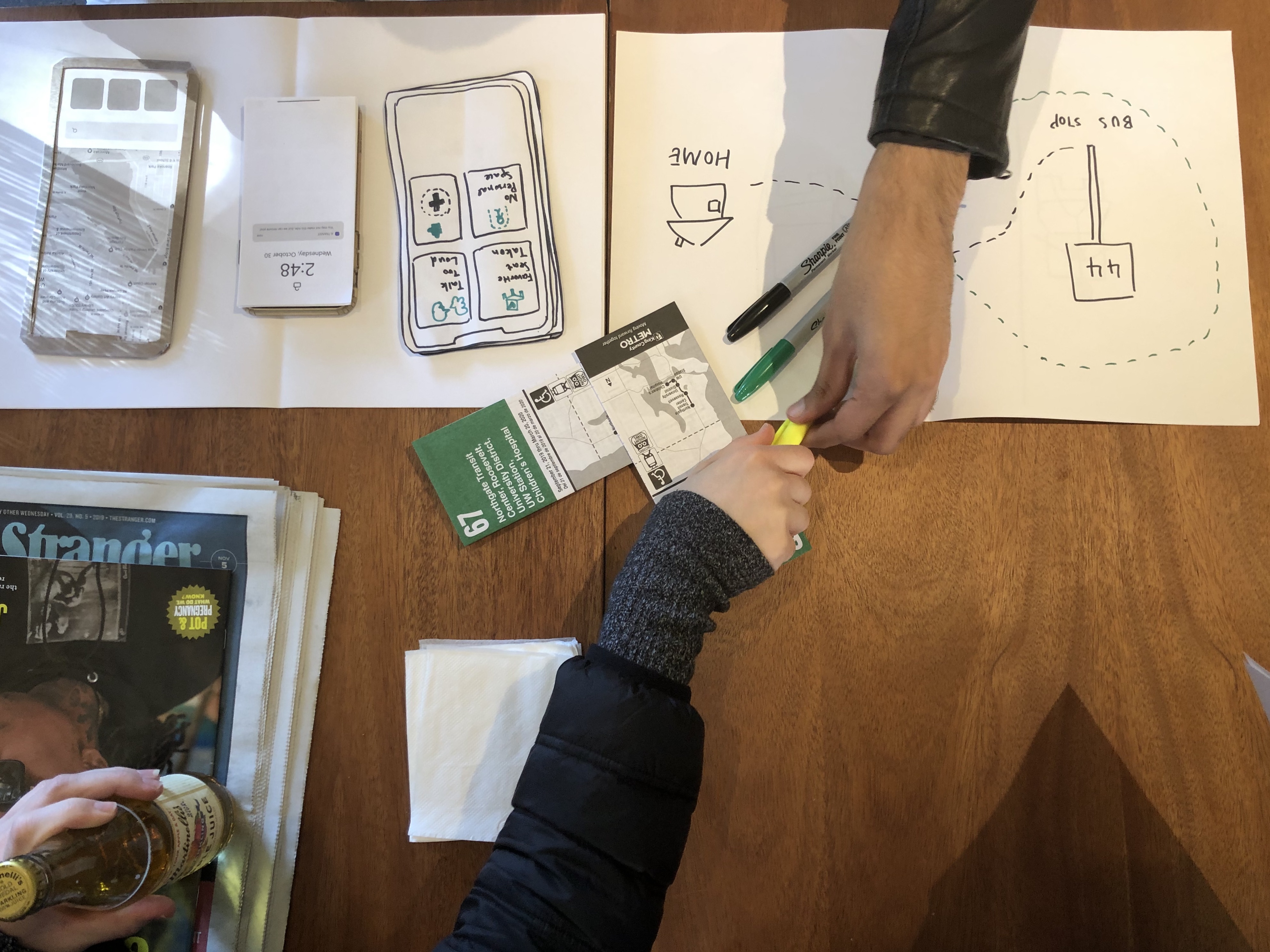 To our surprise, participants expressed that
they would not use the communication feature
. Presenting a phone to strangers to show text to them is a red flag and would lead to immediate rejection. They also expressed that exposing their conditions in public would make them feel uncomfortable.
Weaving community support into transit touchpoints
Through user testing, we learned a critical pain point on the transit journey for autistic riders: communication in emergencies.

We mapped different stakeholders invovled to define the community that can help autistic riders, as well as user flows to envision the user journey.
Stakeholder Map
Storyboard
swipe right to see more
Userflow and Screenflow
swipe right to see more
---
---
A new way to ride the bus
By providing location-based and contextual guidance throughout the transit journey, our goal was to successfully guide autistic adults that are inexperienced riders from their location to their desired destination.
Learn what to expect on public transit beforehand
Get real-time transit guidance on the journey
Call for in-person help in emergency situations
Become a contributor to moderate contents
---
Design System
*view full
design spec doc
here
---
Reflections
Customize UI


In the final presentation, we showcased Infinite Transit to Dr. Natasha. Besides approval of the overall experience, she pointed out that it would be great to allow users to have an onboarding experience where they can customize the layout, color, text and map according to their preference, since different autistic riders would have different sensitivity to color and information density.


---
Understand allyship further


The experience of Infinite Transit would not be able to provide great support without a strong early traction of users engaging in the community. The viability of the service needs to be further validated with user interviews with allyship.



---
Inclusivity needs smart technology


When we conducted our user research, we noticed that Google Maps has been a comforting transit app for a lot of autistic users, for it is not only giving a wide range of information before users go on a trip, but also its machine learning algorithm helps to accurately predict the transit arrival time and crowdedness through location-tracking. This is an example of how technologies that are invisible to a service can greatly improve the experience of a service, and further benefit marginalized communities such as autistic riders.