2020, Seattle, United States
Role
Interaction Design
Qualitative research
Research Synthesis
Literary Review
Ideation
Team
Timeline
Sep 2019 - Dec 2019
Reimagine future pregnancy wearable that helps pregnant women manage nausea.

Advised by
Artefact
, this 6-month capstone design project speculates on wearable technology to integrate machine learning and CSCW based on secondary and qualitative research.
---
Research -Driven Design
Connecting women with healthcare providers and support circles, we are reimagining a sustainable wearable service that helps pregnant women anticipate nausea patterns and facilitate lightweight communication with the partner through emerging technology in 5 years.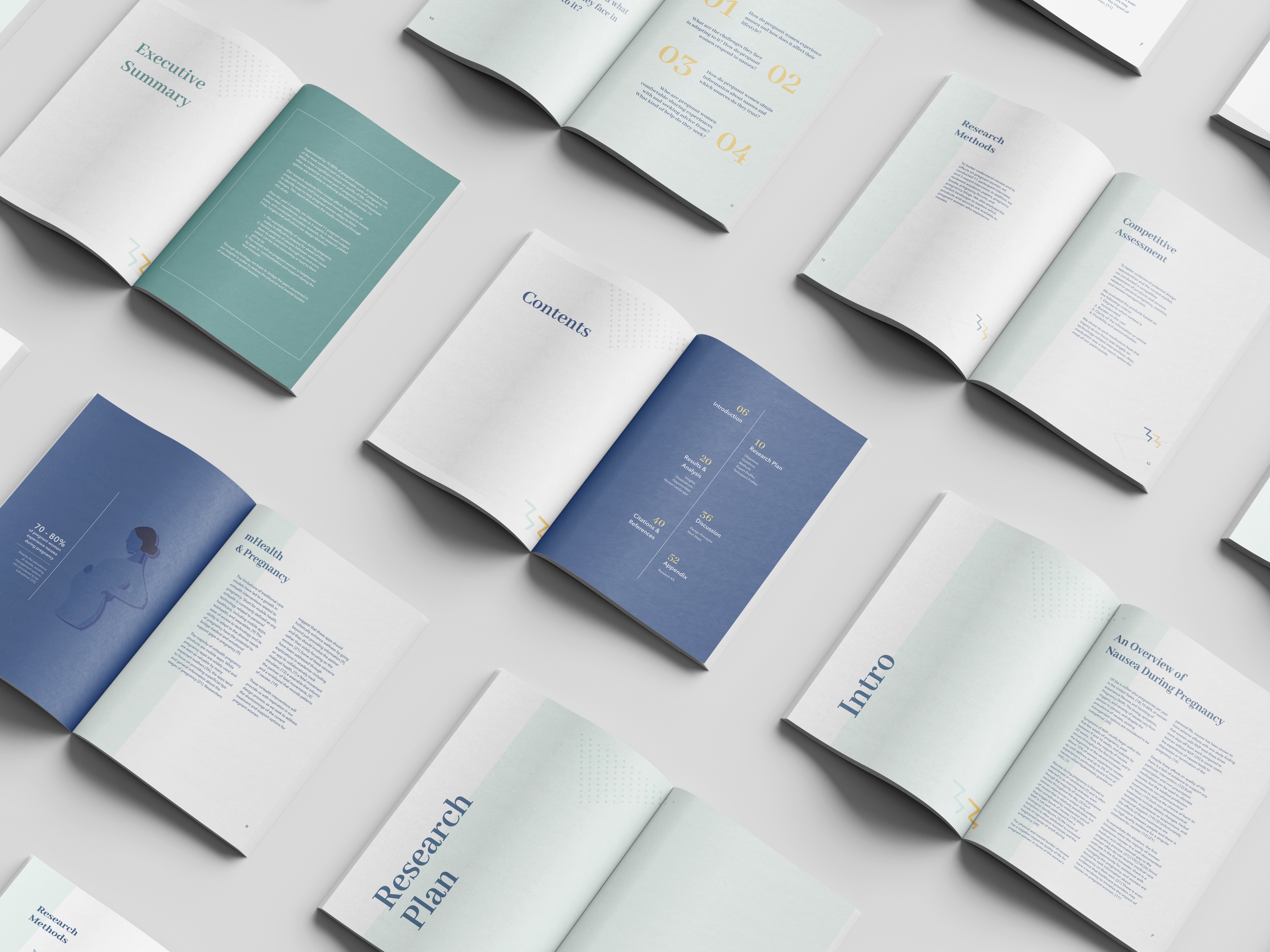 * This is an ongoing project. While our team is ideation and prototyping the design concept, take a quick overview of our research before we present the final product in August.
Download Research Report
---
Background
70-80% of pregnant women experience nausea during pregnancy
At least
4 million women
go through a full-term pregnancy every year in the United States
Nausea usually affects pregnant women between
week 2 & 22
, but for some it can last through the third trimester until the time of delivery. Symptoms of nausea peaks between weeks 9 and 16, and therefore affects most during the first trimester.
---
There is a lack of high‐quality evidence to support any particular intervention
Although nausea tends to be treated as a normal part of pregnancy, it can significantly reduce the quality of life of the pregnant woma.
While the exact cause is unknown, nausea is usually attributed to rising hormone levels and a heightened sense of smell *.
* The elevated HCG levels (which play a key role in the pregnancy) create a heightened sense of smell, low blood pressure, and the other factors that contribute to nausea.
---

How might we


design a future service making nausea more manageable for pregnant women?

---
Concept
This is our teasing concept for the final design response. We are in the process of refining the final desing concept.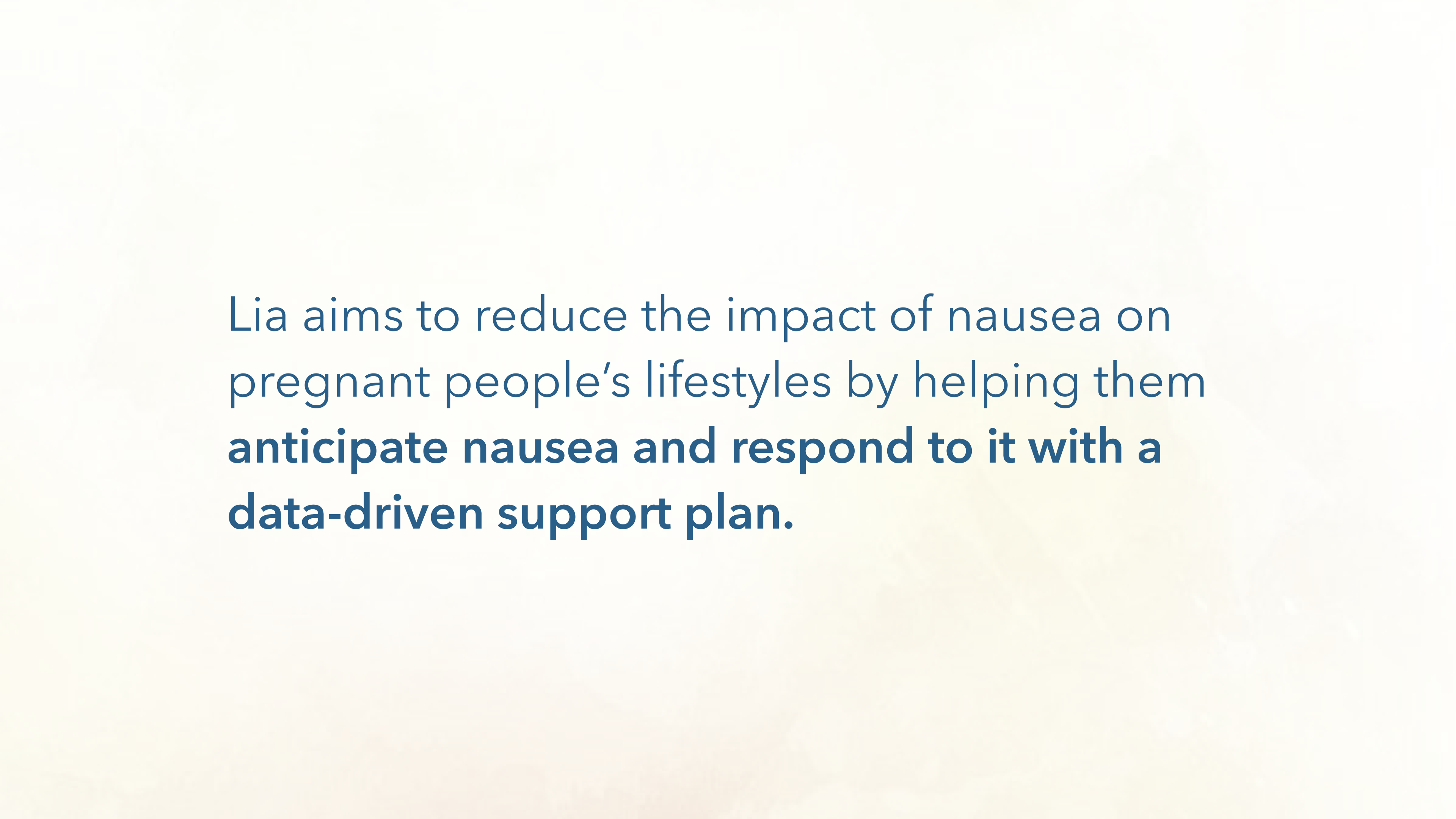 ---
Timeline
This capstone project took place right after COVID-19 hit United States. Due to public health concerns and restriction of in-person activities, we adapted our research and design method to remote.
A timeline of different research and design stages and methods applied.

---
From 3 Research Insights,
we identified 3 design opportunities.
* We conducted
5
remote SME interviews and
11
participant contextual interviews
insight 01
The unpredictability of nausea during pregnancy makes it difficult to prepare for ahead of time

I think I had naive expectations of pregnancy before I got pregnant. - P11

[Nausea] kind of knocked me on my butt. - P1

To throw up as much as I did was not something I anticipated at all. - P2

design opportunity 01

Help pregnant women anticipate their nausea patterns to empower them to identify compatible lifestyle adjustments.
insight 02
Varied patterns of nausea between women cause them to seek solutions through trial-and-error, which can be time-consuming or lead to them giving up.
We're always fine-tuning and trying to figure it out for each person... but if there was a silver bullet [for nausea], oh my God that would be amazing.
- Robin, Blue Ova Health

The advice available for pregnant moms should not be one size fits all. - P10

There are so many things in life that people will just tell you that you cannot do because you are pregnant, and that is not true. - P1

design opportunity 02

Help align expectations about nausea to make in-the-moment and long-term experiences with nausea more manageable.
insight 03
The mental toll on pregnant women is heightened by gaps in communication and support during the first trimester.
That's the worst part of it, I hated lying to people. - P5

I didn't want my co-workers to know [that I was feeling nauseous] because I didn't want them to feel bad or feel like they had to change their routine or the food they brought in. - P7

It's a unique situation because you feel really sick and you can't tell anyone why. - P1

People don't like to hear about that [negative] stuff, they just want to hear that you're loving pregnancy. - P7
design opportunity 03

Facilitate lightweight communication between pregnant women and their support circles to reduce the burden caused by nausea.
---
Research Process
01 Expert Interview
Explore opportunities in the field of Personal Health Informatics
We did literature reviews of academic papers, medical research reports and pregnancy books to help us understand pregnancy and the field of personal health informatics (PHI).
To better understand our design space, we spoke to six experts from a range of fields about pregnancy, PHI, and data. Each expert shared their professional opinion and expertise to better inform us about the pain points, existing solutions that supports pregnant women, and specific concerns that we should address for a pregnancy-related service.
---
02 Participant Interview
Identify Pain Points
We wanted to understand pregnant women's behaviors, needs, and pain points at home, work, and social situations.
As a team, we equally contributed the effort to draft screeners for participant recruitment and interview. Due to the COVID-19 global pandemic, our research methods were optimized to be fully remote as we could not safely do this in person.
---
03 Competitve Analysis
Explore Niche Market
To avoid saturated space, we conducted a competitive analysis of pregnancy products in the market and research field. This helped us identify a niche market in the pregnancy space.
We identified 17 exisitng products to inform the pregnancy market for nausea.
---
04 Research Synthesis
Extract Insights
To extract insights from observations, we conducted 4 rounds of research synthesis to understand coded interview data. With the research insights, we are also able to define the desired outcome and design principle.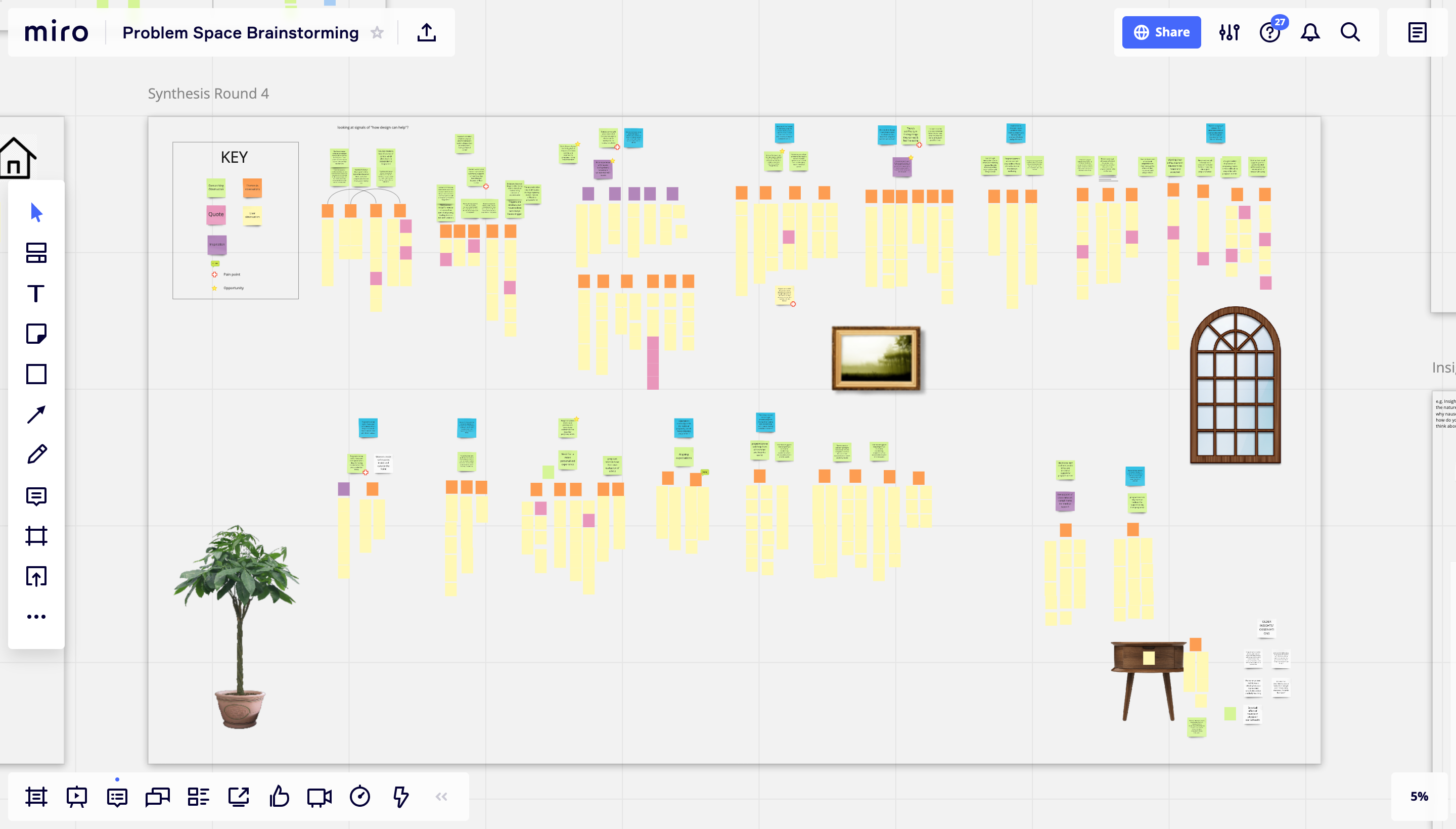 Our team conducted 4 rounds of in-depth research synthesis.
---
Deisgn Process
01 Concept Development
Mapping the System
In order to make a viable design, we first decided to understand the ecosystem of the healthcare system for pregnant women.
Through ecosystem mapping, we identified a viable business model to deliver sustainable service for pregnant women. Through a touchpoint map, we mapped out an interaction system where data has been collected and processed by a machine learning algorithm.
---
02 Concept Development
Make Idea Tangible
We used brainstorming methods including braiding to quickly ideate 60 concepts in response to our design challenge.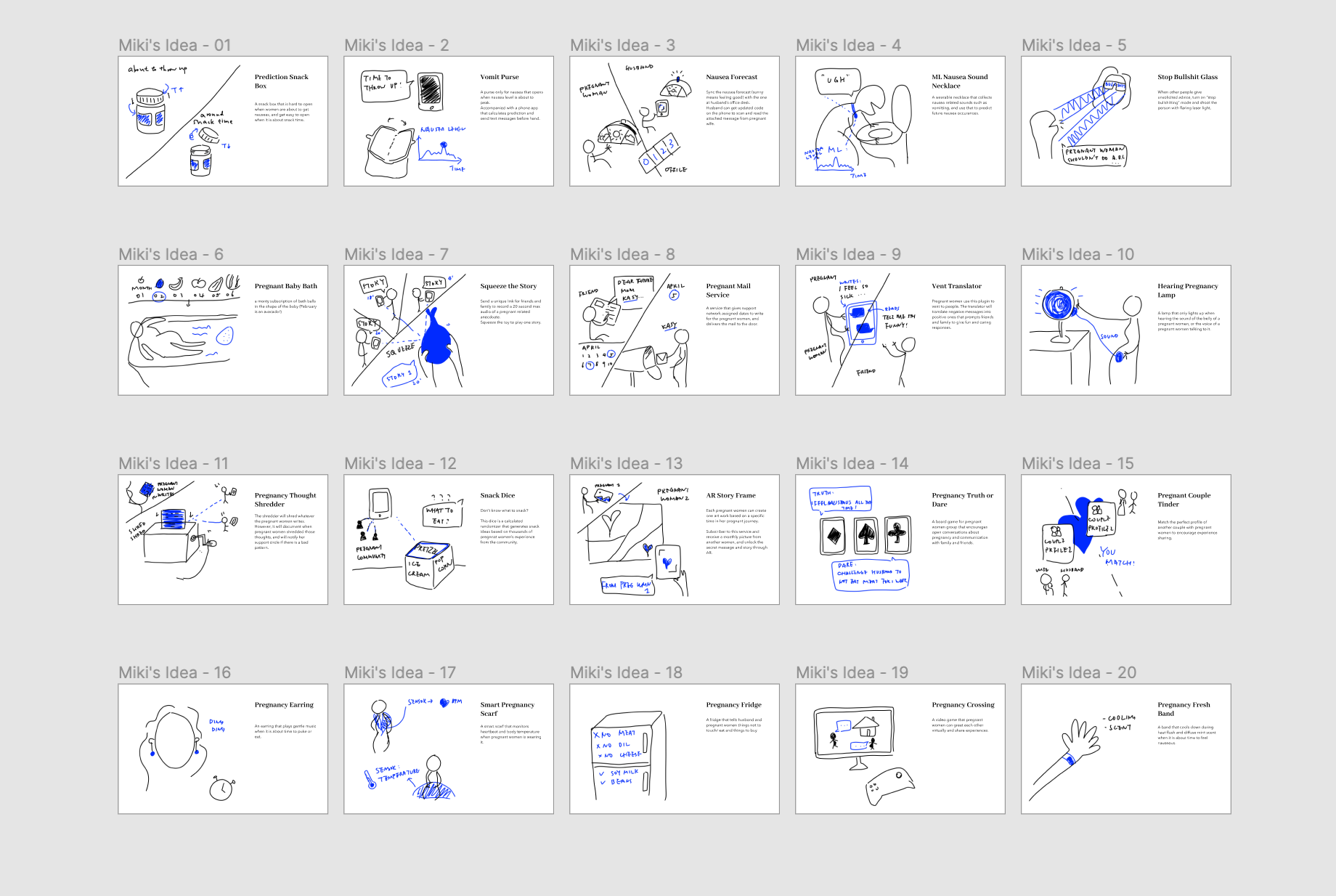 Idea sketches from each team member.
Using our three design principles to assess how our ideas best embodied each of our principles, we used Dot Voting to downselect to three potential concepts.
We downselected the design direction using dot voting.
We ideated wearable that can be easily concealed to brainstorm the form and sensor according to the data that can be collected.
We brainstormed different kinds of wearable that can integrate to the daily routine of pregnant women.
---
Next Steps
Coming soon ...

Storyboarding

Prototyping

Refined Product Concept Deliverable